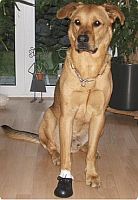 Herm Sprenger Natural Rubber Dog Boots

Herm Sprenger dog boots have been made in Germany from caoutchouc natural rubber for more than 20 years they are proven and tested in pratice. The soft black natural rubber dog boots are the ideal cover over a bandage for injuries or in winter as a protection against lesions through regular walking on salt and grit granules.

The qualities of the rubber used makes the dog boots soft, light and strong all together. This fantastic material also gives the dog boots an excellent fit and ensures your dog keeps the feeling for the surface they are walking on.

The dog boots are available individually or in sets of 4.